Welcome to issue #2 of Mapha's weekly blog. Every week we will be talking about the exciting world of technology startups, private equity and the global last-mile delivery space. Make sure to tune in so you don't miss out on industry analysis from our international & in-house experts with over 85 years of experience in the technology startup & private equity industry.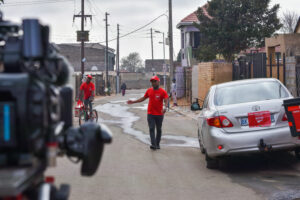 Succeeding in the fast-growing food-delivery ecosystem will require understanding how overlapping economic forces affect a complex web of stakeholders.
Food delivery has become a global market worth more than $150 billion, having more than tripled since 2017. In the United States, the market has more than doubled during the COVID-19 pandemic, following healthy historical growth of 8%. Moving forward, it is poised to remain a permanent fixture in the dining landscape.
Even as the food-delivery ecosystem continues to expand, its economic structure is still evolving. Considerations such as brand, real estate, operating efficiency, breadth of offerings, and changing consumer habits will determine which stakeholders win or lose as the industry develops. Potential regulatory constraints, including possible changes to how drivers are compensated, will figure into the reshuffling.
(Source: McKinsey & Co., Sept 2021)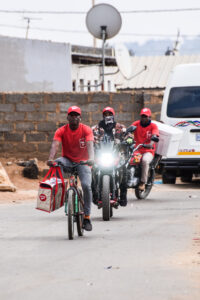 "The industry has experienced explosive growth during the global pandemic"
There are still major investments happening in the space, with recent fundraises, including Wolt (which raised $530 million in January 2021), REEF Technology ($700 million in November 2020), and Rebel Foods ($26.5 million in July 2020), and consolidation, including Uber's acquisition of Postmates (for $2.65 billion in December 2020) and Just Eat Takeaway's acquisition of Grubhub (for $7.3 billion in June 2021).
How big is this market?
Food delivery has become a global market worth more than $150 billion, having more than tripled since 2017. This trend toward convenience has grown more pronounced during the pandemic. Between March and May 2020, when lockdowns in Europe and the United States were the most severe, the food-delivery market spiked. Significantly, it has maintained that trajectory, continuing to grow throughout 2020 and into 2021.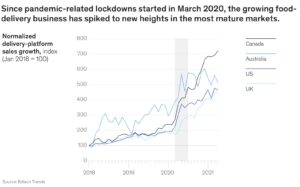 As the food-delivery business continues to expand, a few key factors, from market dynamics to legal and regulatory issues, will help determine the levels of success for the various players:
1. Geographic competition among delivery platforms will be one of the most significant battlegrounds over the coming years.
2. Commission rates for restaurants.
"Delivery platforms make their money through five key revenue streams: restaurant commission fees (platforms typically charge restaurants about 15 to 30 percent of the price of a meal), customer delivery fees, service fees (surcharges of up to 15 percent, on top of delivery fees), in-app advertising (with platforms able to position brands and products based on customer-preference data), and tips (which go directly to drivers but which effectively subsidize platforms' operating costs)."
3. Driver compensation and benefits.
4. The introduction of Dark-Stores.
(Source: McKinsey & Co., Sept 2021)
How does Mapha compare to the global landscape of delivery players?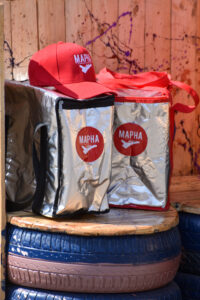 Fast delivery
Mapha provides a rapid delivery service for merchants moving goods in their local areas. With delivery times averaging 30 minutes, it is no wonder we are the leading delivery brand in Africa.
Precise order tracking
The flow of information within the last-mile delivery process is crucial particularly for consumers since they would always want to know the status of their delivery.
While traditional courier services provide a general indication of where the goods are, Mapha as an industry pioneer provides a more precise real-time tracker which is what 100% of consumers want.
Specialization
Mapha offers an interactive platform for businesses of all specialities to sign up and begin delivering their goods. Both township and urban businesses are now free to expand their offerings beyond their immediate geo-location.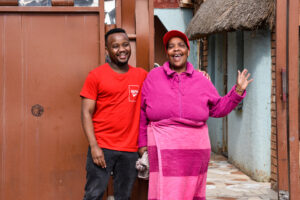 Convenience
Gone are the days when customers would have to bring their parcels to the post office to have them shipped. It has become more convenient since then, with courier companies putting up satellite branches in strategic locations for easier access.
And while all this is great, Mapha's world-class technology has now changed the game entirely with a platform that took the service to a whole new level of convenience.
Cost
Mapha allows customers to quickly order any goods they want from local merchants at an affordable price. Making us the preferred choice for consumers and merchants nationally.
Efficiency
The nature of last-mile delivery itself has proved to be a challenge mainly because of the sheer volume of end-users and the parcels that need to be delivered. Mapha uses electric vehicles, bicycles as well as tuk-tuks to move goods within the township ensuring maximum efficiency for the customer whilst creating employment opportunities for the locals.
Transparency
Consumers would always like to be in the know when it involves the items they purchase. This rings particularly true in the logistics industry where traditional companies started using tracking codes to give their customers some information on the status of their delivery.
In this era where technology rules, tracking codes just don't cut it with customers anymore. What they want is full disclosure of where their delivery is in real-time so that they know when it's going to arrive. Luckily for Mapha consumers, our interactive application allows customers to live-track their goods whilst in transit so they know exactly when the product will arrive.
Friction
A smooth overall delivery experience is ideal to boost efficiency and cut costs, but there are still small bumps that must be dealt with that prevents this from happening.
Mapha as a world-class technology startup is now on the move to take on these challenges for a more streamlined service. With the help of technology, they are now being addressed one after the other.
Our company has already created over 250 jobs for the unemployed and unskilled, not to mention the thousands of indirect jobs we have created through our platform. We have connected various small business retailers with new customers all around the country by using a brand new cutting-edge geofencing technology that optimises how we connect users to their desired retailer.
Our vision is clear-sighted, We aim to be the biggest delivery brand in Africa by 2025, join us by trying Mapha for yourself: https://mapha.co/
Enjoy your weekend.
Johannesburg, July 8.