Venture capital flows in emerging markets have been growing at a 40% rate year-on-year yet remain just 4% of global volumes.
However, cash is only one component of explosive venture success. If you are a private equity professional you are always losing sleep, partly due to the 6 cups of coffee you had in the last 30 minutes, but mostly because you are pressed about finding the next big promising startup that will guarantee a 100x hockey stick bend on that growth chart.
Developed markets provide investors with plenty of comfort when it comes to injecting cash into them even during economic downturns, but what are some of the things that no one will tell you regarding what it takes to make a big bonus and find that missing gem in your portfolio? Below we give you 5 reasons why emerging market startups are the best for explosive portfolio growth.
#1 "Life BEGINS at the end of your comfort zone"
Let's face it. Investing in Facebook, sorry Meta, won't get you anything above 15% growth in a good year. Recent studies have shown that investing in an emerging market can guarantee your portfolio north of 40% YoY growth and a 100x exit multiple in under 10 years.
The alternative investments asset class has come under much scrutiny lately with concerns around monster valuations and a lack of profitability in a highly competitive startup ecosystem. However, emerging market startups like Mapha are based in markets (South Africa) that have very low market penetration for a massive target audience. That means you as an investor can benefit by buying in early before the economic boom. Imagine if you bought Amazon shares during the dot-com bubble…exactly!
#2 "Never Test the Depth of the River with Both Feet"
Billionaire & seasoned investor Warren Buffett wrote down the commandments of investing and he emphasized the importance of diversification in your portfolio.
Investing in an emerging market startup not only provides a hedge against major news reports that can significantly hinder the progress of your portfolio growth in the West, but also provide investors with peace of mind as most emerging market startups build lasting products for real issues facing economic growth in their regions. The luxury of bolstering up valuations only occurs in developed economies which means an emerging market investor can rest easy knowing they own a piece of a profitable
business in a region like South Africa which is Africa's business hub and #1 destination for international investment on the whole continent.
#3 "Honesty Is a very expensive gift. Don't expect it from cheap people"
Men lie, women lie, but numbers never do. Emerging tech market investment reached $8 billion across 227 deals in Q1 2022, the second-highest amount on record. We saw deal value representing a record 15% of all early-stage VC investments, well above the historical average of around 10%.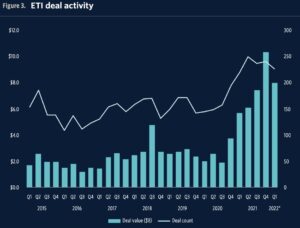 Source: Pitchbook | Geography: Global | *As of March 31, 2022
E-commerce startups, like Mapha, were in the top 5 deals made globally in Q1 2022, this shows strong market confidence in emerging market startups as they continue to return explosive gains. Truth is that the real opportunity lies in emerging markets where developed industries are seeing serious adoption of their products & services.
Mapha's industry saw over $654 million dollars flow in, during the first half of 2022, That's HUGE!
#4 "The Intelligent Investor Isn't a Sheep, He Never Follows the Crowd"
Interest rate hikes just make it cheaper to buy quality assets at a discounted price. Everything on the street is on sale right now including quality companies with brilliant fundamentals. While the crowd is running for the safe havens, the intelligent investor is looking for quality assets and they're filling up their bellies before the boom comes. Good investors sell during an economic downturn, Great investors buy into quality companies.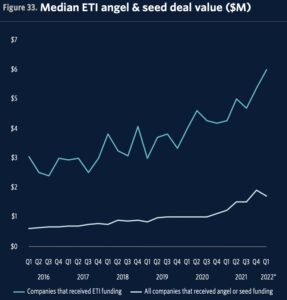 Source: Pitchbook | Geography: Global | *As of March 31, 2022
Median Emerging Tech deal sizes have steadily increased in recent years across both angel & seed and early stages, a reflection of steady VC industry growth, rising valuations, and a generally founder-friendly environment. With happy founders comes explosive growth in your investment.
#5 "A Real-Life Unicorn needs a bit more than just your imagination"
Financial Industry research from trusted sources indicates that a sure way to know the future growth prospects of a company is to evaluate its early performance. Median Emerging Technology Indicators have shown a thunderbolt-like increase in pre-money valuations, suggesting that as investors back these startups their revenues back up their valuations and result in an ever-increasing cycle of growth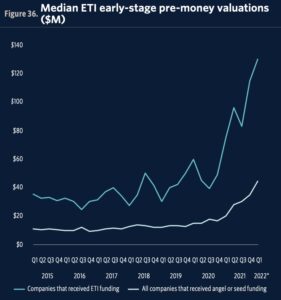 The future belongs to Africa, Asia & South America. In the upcoming quarters, you will hear about massive exits in these regions usually requiring relatively low initial startup capital. If you're an optimist like the guys at Mapha then you know where the real value lies. Go out there and prove everybody wrong today.
Enjoy Your Week
Sandton, Illovo